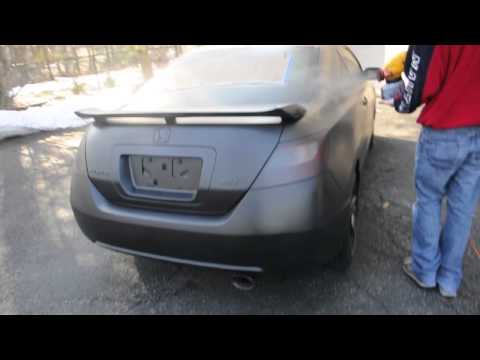 I painted my Honda Civic today! It was shiny blue before and is now matte black. Thanks Isabell for making the video.
Why? Because I saw it on the internets.
How? I used Plastidip. More specifically, I power washed the car first, cleaned it with denatured alcohol, and then sprayed on four coats of Plastidip, which I had thinned 1:1 with Xylene. There are plenty of instructions online if you want to do it.
Tips and things I would do differently:
Get more paint. A fifth coat would have been great, but I ran out of paint. I bought 10 – 14.5oz Plastidips.

Anticipate the spray gun needing more paint. When it got low, it started spewing globs. Perhaps more paint thinner would help.
Guard against drips. There are quite a few drips on the car, unfortunately. The spray gun was not completely cooperative.
Spray the lights / windows more. I had to scrape some paint off the windows. If I painted them more heavily, it would have just peeled off. A fifth coat would've helped, too.